You might have heard that one of the best home improvements you can do is to go all-electric. Swapping out your old natural gas range for an induction range is a good way to update your kitchen. But home electrification isn't always as easy as buying an induction range. For my family, updating our 1960's ranch-style home has become a labor of love. So here is a living document of our sustainable home improvements along with photos and costs, plus notes about what we still hope to accomplish. It's a process and a journey that we hope others will join us on, and we hope this will make it a bit easier.
Why home electrification?
Most of the energy that powers our homes comes from fossil fuels like natural gas, coal, and oil. For homeowners like us, a solar roof system has been a great way to use renewable energy at home. Our utility, PG&E, is using more renewable energy than ever before which is great. But our home is still connected to the natural gas pipelines that run underneath our community. If we ever want to phase out fossil fuels altogether, homeowners like us will need to stop buying new natural gas appliances and replace them with electric appliances.
Related: The key to tackling climate change: electrify everything.
The problem with natural gas
Natural gas sounds, well, natural. Instead, it's a fossil fuel that's pulled from the ground through fracking, also known as hydraulic fracturing. Natural gas is linked to all kinds of environmental problems, from climate change to methane leaks and water contamination. There are also major health issues associated with cooking with natural gas.
"Gas stoves cause unhealthy levels of Nitrous Oxides that would be illegal if it were from a gas power plant. After just twenty minutes of cooking and a sunny window, a kitchen can have actual smog and trigger asthma and lung ailments," according to Redwood Energy.
A sustainable home improvement guide
Now that you understand why home electrification is important for our health and climate, it's time to get started! My friends at the Campaign for Fossil Free Buildings in Silicon Valley have put together several helpful and reliable guides for building electrification.
A Zero Emissions All-Electric Single-Family Construction Guide is the guide we're using. It explains why home electrification is necessary, laws that encourage home electrification in California, and how to pick electric appliances. It even offers an electric appliance price guide that's super helpful.
What we have now
We've come a long way on our journey, but it's not complete. Below are the sustainable home improvements we've done so far.
An electric car charger
We have an electric car charger which required our first upgrade to our energy panel. Now we have his and hers Tesla's as well.
Cost: About $600 to have the electric car charger installed. The Tesla Wall Connector costs $500.
Induction range
We replaced our natural gas range with an induction range. When I learned about the home electrification movement I was hesitant to go back to an electric range. I grew up using an electric cooktop that took longer to heat than natural gas. That instant flame seemed more satisfying. But now that I'm used to the induction cooktop, I cannot imagine going back to natural gas. The induction cooktop boils water in what feels like seconds compared to the natural gas stove, and the entire pan heats quickly and evenly.
The only problem was that the outlet for our natural gas stove was only 120 volts. So before we had the induction range installed, an electrician upgraded the outlet to 240 volts. (Not gonna lie – spending money to upgrade wiring is a lot more painful than spending money on a brand new range.)
Cost: Samsung induction range: $2799. Upgrading the wiring: $1,200.
Electric fireplace
My husband's pandemic project became taking out the old wood-burning fireplace that we've only used a few times. We discovered quickly that it had been "upgraded" many times over the years, and not a single one of those "upgrades" was better than the last. But now we have an electric fireplace! My husband used the shiplap from the sides of the wall to create the horizontal frame around the electric gas insert. A genius example in upcycling if you ask me 😉
Cost: Electric fireplace insert: $259. Labor: free.
Cool roof
Our roof desperately needed to be replaced, so we replaced it with a cool roof during the summer of 2020. Ironically, the new roof was installed while the Northern California wildfires burned. The below picture shows the roof being replaced as the orange smoke haze hung from the sky.
Cost:
$21,516 for installation + materials for CertainTeed Presidential Shake TL Solaris which can be used to comply with 2019 Title 24 Part 6 Cool Roof requirements.
$2,898 for a radiant blanket.
$31,222 total also included gutter screens, tear off, removing and installing additional plywood etc.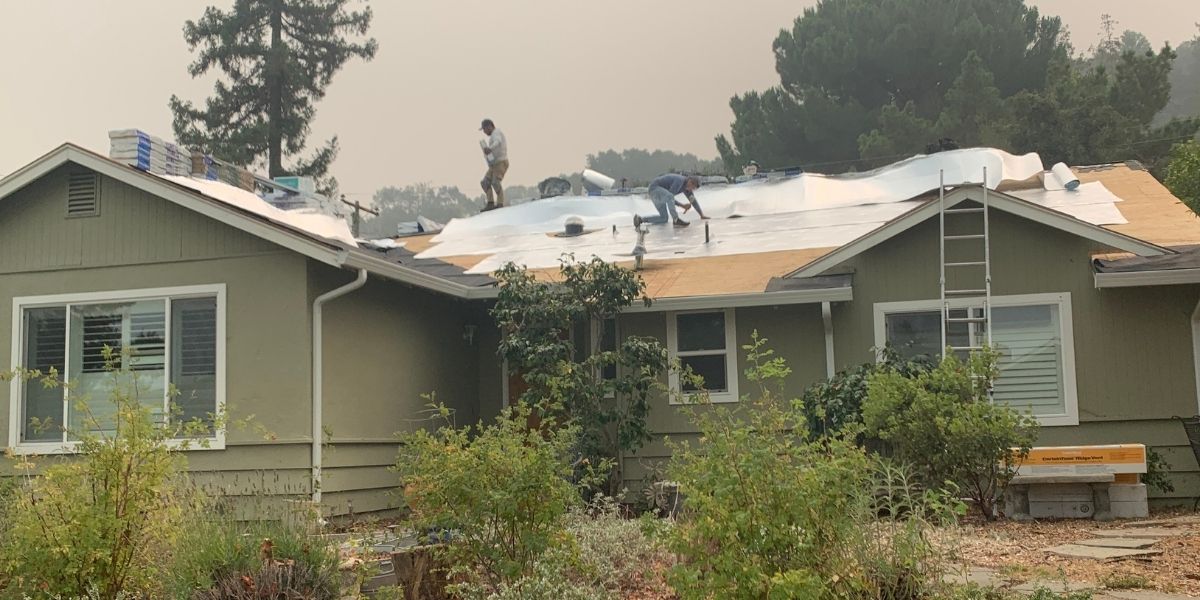 Solar roof panels
We've had a solar roof system almost as long as we've owned the house. It was our first sustainable home improvement.
Cost: $76 per month Tesla solar lease.
Related: The ultimate guide to residential home solar
Green energy from the power grid
We pay a little extra each month for San Jose Green Energy. They supply our home with 100% renewable energy through PG&E.
Cost: About $4 extra per month.
Smart thermostat
Our Nest smart thermostat is connected to a service called OhmConnect. Nest now powers down our air conditioning or the heat during our designated OhmHours. An OhmHour is when the grid is struggling to keep up with demand and may start to draw energy from dirtier sources. By powering down during these hours, we help save energy for the utility, which also helps prevent rolling blackouts.
What still needs to be replaced
As you may have gathered by now, home electrification is not an easy or cheap DIY project. That's why we're going step by step as our time and budget allow. Below are the home improvements and appliance upgrades we still need to get done, and what we hope to replace them with.
Upgrade the electrical panel
We already have a 200 amp electrical panel, which is enough to charge our electric cars (one at a time), power the electric range and the rest of the house. However, by the time we go all-electric, we will need to add an additional electrical panel. When we do replace the electrical panel I'd love to replace it with one from Span.
Replace gas furnace with a heat pump
I'm looking for a heat pump system that's efficient and has a low Global Warming Potential (GWP).
Replace the gas dryer with an electric dryer
I would love to replace our separate washer and dryer with one combination condensing washer & dryer. I've used these in Europe and they are so much smarter. Why move the laundry over when you don't have to? Plus, it seems like a better use of space to only have one machine. Our laundry room is also an office and a storage area, so adding a few extra feet would be amazing.
Replace the hot water heater
We have a fairly new hot water heater so this might be the last to go.
Get power storage
We were on the waitlist for a Tesla Powerwall for a long time. However, now it seems more companies are selling home energy storage, so the search continues. SunPower has a SunVault storage battery, but since we have a Tesla system we're still looking for storage options.
What we've learned
Going electric at home is not easy, but it's incredibly fun and rewarding. As my husband and I learn, we talk about it with our kids. Now they understand where our appliances get energy from, why we're making these home improvements, and why we believe these choices will impact their future in a changing climate.
Updated July 12, 2021