I help green companies and environmental solutions get discovered online through search marketing. I specialize in search engine optimization (SEO), copywriting, and website design. I also write about my own sustainable living journey here, mostly focusing on home electrification and the family-friendly products and services I use every day.
About me
I'm a LEED Green Associate, ISSP Sustainability Associate, and search marketing consultant for sustainability-minded companies. I'm also a mom with two kids, a husband, and two dogs. We live in Silicon Valley where innovation is king.
I was born in Sweden and spent my childhood summers exploring nature. I've been privileged enough to travel the world and know people from all its corners. My experiences have formed my belief that to solve most environmental problems we need a combination of individual change and systemic change. We can't have one without the other.
To help connect the dots between what companies and governments are doing to solve systemic environmental issues, I write stories about my own journey using the latest green innovation, eco-friendly products, and sustainable home improvements available. Read my story to understand why I care so deeply about making environmental solutions the obvious choice for everyone.
My credentials
You might be wondering what makes me qualified to write about a topic as complex as environmental problems and solutions, and how search marketing comes into the picture. I have some unique credentials (as you'll see below.) But most importantly I'm passionate about finding solutions to environmental problems, implementing them for my own family, and communicating that knowledge to people searching for answers. My knowledge about the environmental movement also makes me uniquely qualified to help green companies with their own sustainable marketing campaigns. Here's how I do that using my credentials:
LEED Green Associate
Sustainable home improvements can make our homes more energy-efficient, reduce our reliance on fossil fuels, and make us more resilient. That's why I became a LEED Green Associate – So I can explain how and why every renovation and update to our home is an opportunity to make it healthier and more comfortable for everyone that lives in it, and also less of a drain on our planet and natural resources.
ISSP Sustainability Associate
I mentioned that I've been lucky enough to travel through many parts of the world including Europe, Africa, Asia, and the United States. My travels have opened my eyes to the fact that we all have different ways of doing things depending on where we live and how much money we have. There is no one size fits all. Instead, we need an economy that serves all people and the planet. This will not be easy, but it is possible. That's why I became an ISSP Sustainability Associate.
The International Society of Sustainability Professionals certification program teaches that we are all connected through our global economy and natural resources. That's why the connection between systemic and individual change is so important. Reducing our personal environmental impact is important. And it is equally important that companies and governments make the green choice the obvious choice for every individual and branch within the system.
Circular Economy – Sustainable Materials Management
You may be wondering how the system can be changed. Well, it won't be easy. Governments and companies today take from nature, make products and services, and then turn them into landfill waste, pollution, and emissions. That's the "take, make, waste" way of doing things. But there is another way.
We could have a circular economy where the materials we take from nature are taken in a responsible way, then we design useful products that can easily be repaired, refilled, upcycled, recycled, and eventually regenerated into something new. This may seem idealistic, but it's not impossible. That's why I have a circular economy certificate in sustainable materials management from Lund University through Coursera. To help explain how to support products and systems that contribute to a circular economy.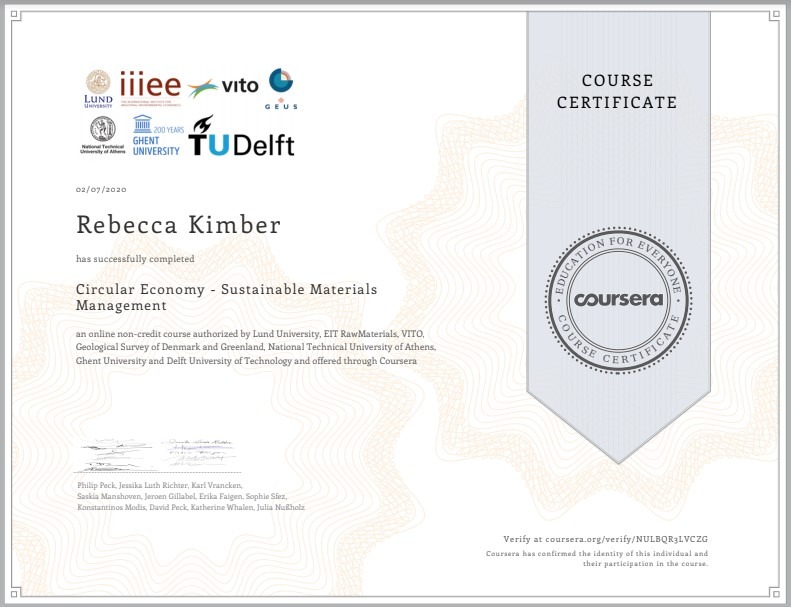 Walter Cronkite School of Journalism
All this brings me back to copywriting and communication. I have a Bachor of Arts in print journalism from the Walter Cronkite School of Journalism at Arizona State University. If you want to be found online, you need relevant content and keywords that explain what your products and services are all about. But if you're a green company, the copy on your website is so much more than just words on a page. It's how you explain to your clients and customers what makes your offer unique plus what makes it sustainable. People are tired of the old take, make, waste ways of doing business. They want to support companies that give back and care about people and planet. Not just the bottom line.
Moz Academy certified
I'm also certified in technical SEO and SEO essentials through Moz Academy. There's a lot of focus on social media these days, but most companies still get the majority of their traffic from search engines like Google, Amazon, and Pinterest. Social media is an amazing branding and way to stay connected with your customers. But a technically healthy and well-designed website with keyword-optimized copy written for conscious consumers should still be the foundation of any sustainable online marketing strategy.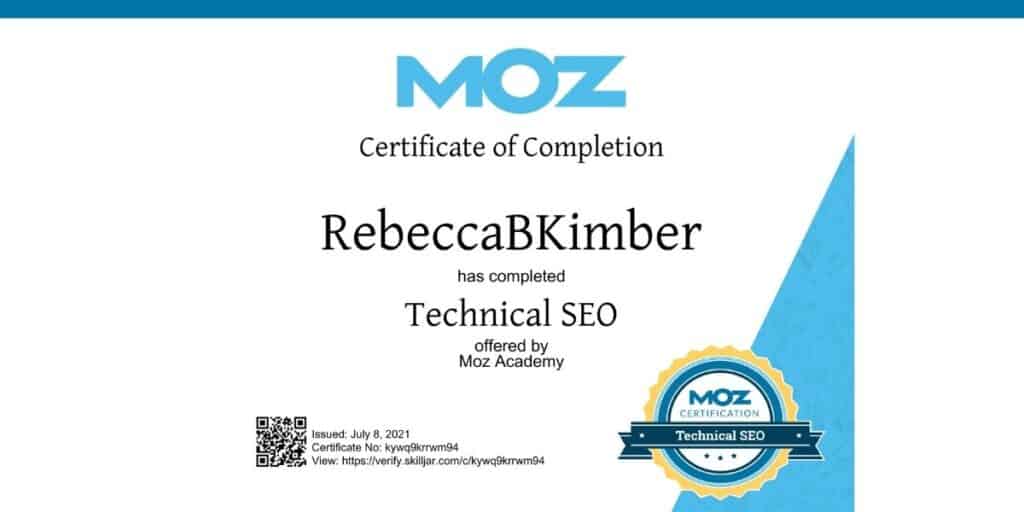 I'd love to help your green company get discovered online through search marketing. Learn more about how to work with me or contact me to book a free consultation.
Best,
Rebecca