If you're new to the world of sustainable products, it can feel overwhelming. Relax. Swap one or two things at a time. Start with easy and inexpensive things like cleaning products. Then work your way into clean beauty products, sustainable fashion, and regenerative food. Finally, go for the smart thermostat, solar panels or greener car. We can't all do everything, but we can all do something.
---
Easy and inexpensive kitchen swaps
You've probably seen the images of the great ocean garbage patch and animals choking on plastic waste. It's not pretty. Much of that waste comes from old fishing nets, litter and garbage released by countries without adequate waste disposal systems. A good chunk comes from single-use plastics, which is why it's important to use reusable containers and compostable packaging whenever possible. Here are a few easy swaps.
Plastic wrap
When was the last time you got saran wrap to actually stick to the thing it's supposed to be stuck to? Honest, I've never been able to figure it out. Swap plastic wrap for silicone lids and all the things will stay fresher.
Reusable gallon zipper bags
I love freshly baked bread. It's my favorite food by far, other than chocolate cake. But my family rarely finishes an entire loaf in one day, so I have to cover it in something better than the paper bag it came in. I've tried a bread box and wrapping it in kitchen towels, but nothing beat a gallon ziplock bag. Until I found the LunchSkins gallon bags and I could finally stop wasting old, hard bread and plastic bags. So if you're looking for something less plastic-y, the reusable gallon zipper bags by LunchSkins has you covered.
Swap the plastic sandwich baggies for reusable stainless steel containers
I've packed the kids lunches in the same containers from U Konserve since 2011! We've lost and found the lids a few times, but they mysteriously re-appear as fast as they disappeared. The lids snap on tight and my kids have yet to dent the stainless steel.
Sealable paper sandwich bags
If reusable lunch containers won't work for you or your kids, there are still plastic-free options. LunchSkins also makes a sealable paper snack and sandwich bags. These are perfect for field trips and those days when schlepping a container home just isn't convenient enough.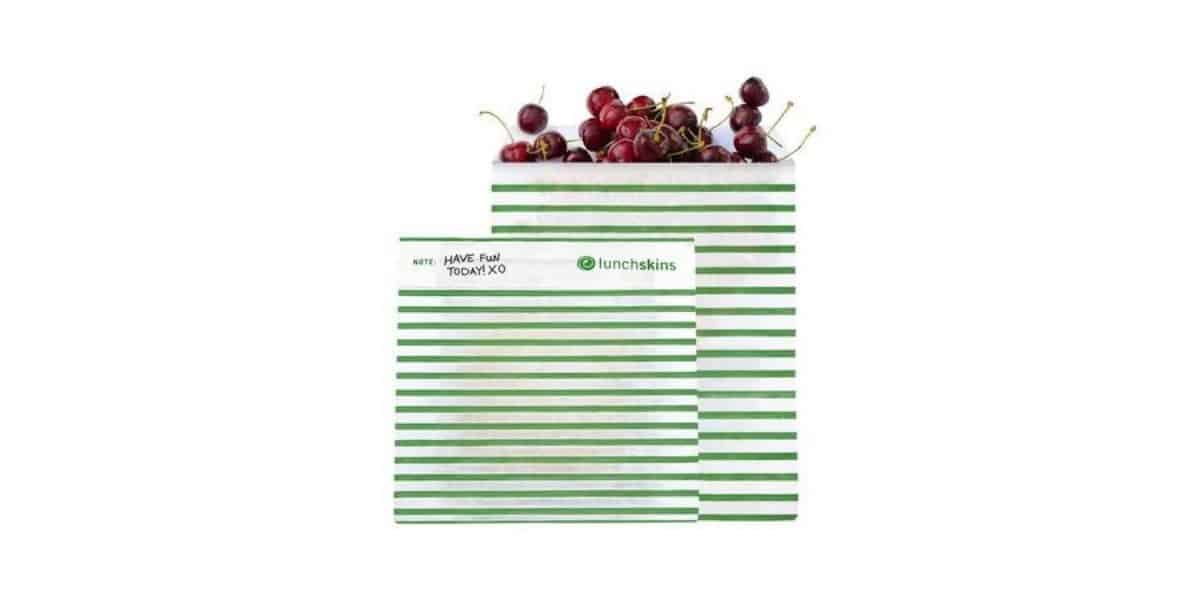 ---
A low-waste way to clean
You might already buy non-toxic cleaning products from your local grocery or drugstore. But there's a green revolution happening in the cleaning and personal care product industry. Companies are now selling ultra-concentrated cleaning products and paper products from bamboo that one-up all the other things.
Tree-free paper products
Did you know most toilet paper and paper towels come from virgin forests? Ugh. Grove Collaborative's tree-free household products are a soft and sustainable alternative.
An almost waste-free cleaning system
Most cleaning and personal care products contain mostly water and packaging. Transporting all that water and packaging is pollution and emission-intensive. Companies like Grove Collaborative are using innovative ways to reduce shipping and transportation by selling concentrated packets of cleaning products and detergents.
I've tried several ultra-concentrated cleaning products at this point. The Grove Collaborative cleaning concentrates give you a green, shiny clean while truly reducing wasted packaging and shipping.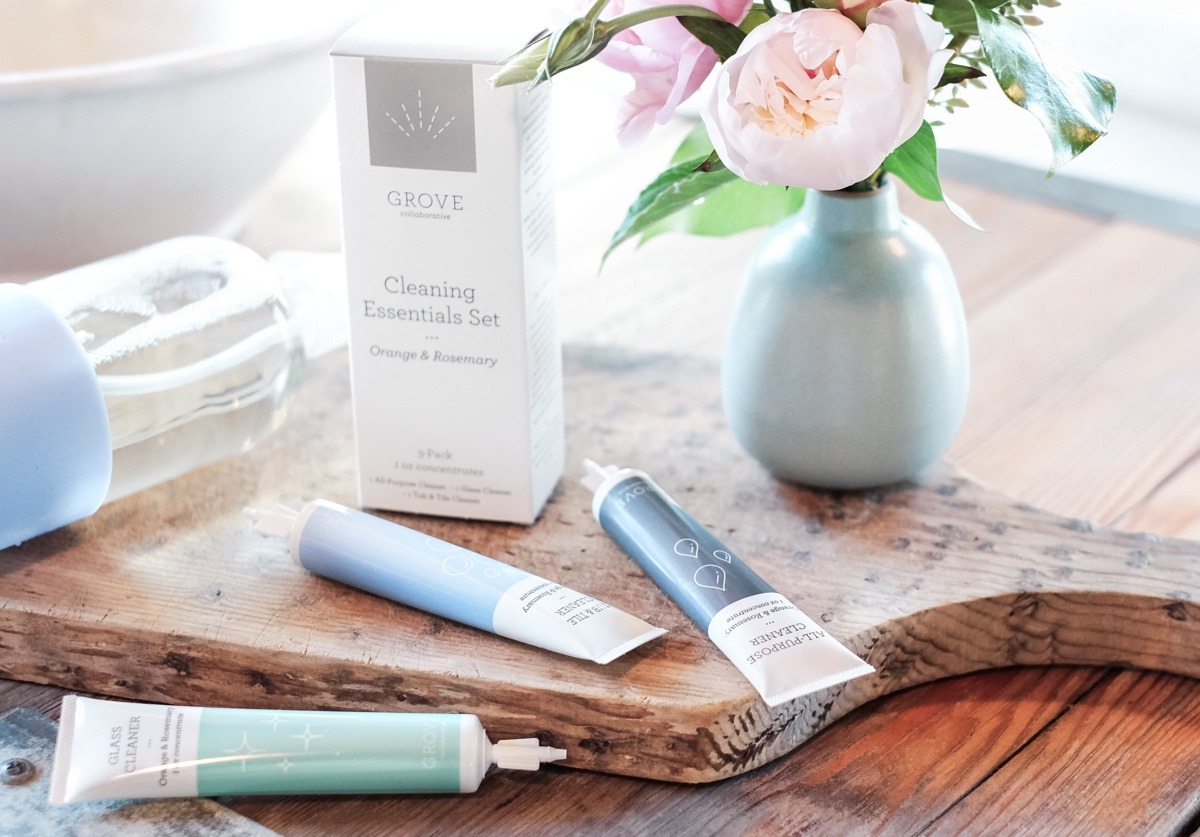 Grove Collaborative is a shopping site that only carries healthier products for your home and family. It's easy to use, customizable, and they are a certified B-Corporation.
---
Clean Beauty Swaps
You've probably heard by now that beauty and personal care products contain a lot of unhealthy ingredients. That's why I love the Environmental Working Group's Skin Deep Database. It offers consumers a safety score for thousands of products. But scouring through a database to find clean products that are also effective can be time-consuming. So here are a few simple beauty swaps I think you'll love as much as I do.
Makeup
Swap your old blush and mascara for 100% Pure Fruit Pigmented Ultra Lengthening Mascara. I've been testing mascara's for almost 20 years and this is the only one that does not end up under my eyes at the end of the day and still washes off easily and with no smudgy mess. Not only is their mascara and blush fantastic, but it's also non-toxic. Win & win.
---
Nail Polish
The EWG has a long list of toxic ingredients to look out for in nail polishes. "100% PURE®'s Non-Toxic Nail Polish is free of the top ten toxic ingredients found in most nail polishes. No formaldehyde, toluene, DBP, camphor, formaldehyde resin, xylene, parabens, fragrances, phthalates and animal ingredients," according to 100% Pure.
Before I tried this brand, I had little faith in non-toxic nail polish. Today I can finally say there's no reason not to swap that icky drug store nail polish for a non-toxic polish from 100% Pure.
---
Sunscreen
Swap drugstore sunscreen for Juice Beauty mineral sunscreen or Alba Botanica non-mineral sunscreen. Both are free from Oxybenzone and Octinoxate, which are the sunscreen ingredients that have the highest health concerns according to the EWG.
---
Retinol
Retinol, AKA Retin A and vitamin A, was my favorite anti-aging ingredient for years. Until I did the research. Retinol is incredibly effective, and also toxic. The EWG rates retinol as a high hazard.
"Retinol is a potent form of synthetic vitamin A. Data from an FDA study indicate that retinoid ingredients may speed the development of skin tumors and lesions on sun-exposed skin," according to the EWG.
Finally, there's a clean and effective alternative!! The CounterTime Retinatural system was designed to work as well as retinol without the toxic side effects and skin sensitivity! Did I mention it makes my skin glow, it doesn't sting and burn, and it doesn't make me more sensitive to burns! I rarely gush over beauty products, but this line truly is that good!
If you're trying to cut down on plastic waste, this line comes in glass containers. Oh, and the following products in the CounterTime Retinatural line are EWG Verified Top Scoring Products!
Complex Antioxidant Soft Cream
Enlightening Treatment Pads
Radiance Firming Complex
Soothing Face Wash
Tetrapeptide Supreme Cream
Ultra Renewal Eye Cream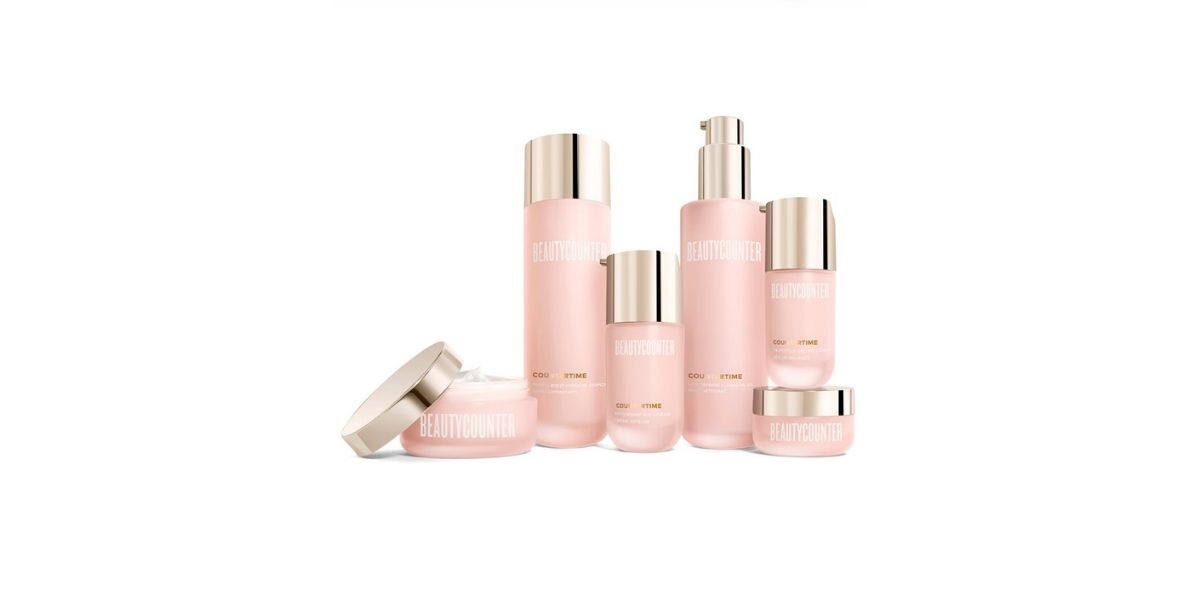 ---
Sustainable fashion
Native shoes
You've probably seen Natives before, but did you know they can be turned into materials used to make seating or insulation? Bring your old Natives back to the store to be upcycled and get an in-store coupon. The company's goal is that each pair of Natives will be 100% life cycle managed by 2023. Did I mention they're super light like flip flops, but they stay on rather than flopping off? Win-win.
---
Patagonia
You probably already know that Patagonia is a leader in innovation toward more sustainable outdoor clothing and gear, but did you know JanSport is too? Yep, that backpack you rocked in high school is still relevant today, and the company is making big strides toward keeping all materials inside a waste-free loop.
Timberland
Then there's Timberland. This is another brand that's been around for decades but is constantly pushing the envelope toward greater circularity and sustainability. The Timberland EarthKeeper boots are made with upcycled tires from their tire company. How's that for circular economy innovation?
---
Feminine swaps
Pads and tampons made the news a few years ago because they contain a cocktail of questionable and undisclosed ingredients. Plus, pads and tampons pile up in landfills. If you're ready for a cleaner option, Cora pads and tampons are an easy swap, and Cora is a certified B-Corp that donates period products to girls and women in need.
It takes a little more getting used to a menstrual cup. But if you're committed to a non-toxic and waste-free period, it's easy to use after you get used to it. A quick tip: use a natural lubricant like coconut oil to help it along the first few times. It needs to rotate to get snug and tight. Enough said.
---
Clean swaps for toddlers and teens
Kids are the most vulnerable to toxic ingredients and pesticides. Some of the most toxic products for kids are still lice treatments and nail polish. Check out these easy and effective swaps.
Nontoxic lice treatment
Swap pesticide-based lice remover for the Lice Clinics of America treatment kit. I always keep one of these kits on hand just in case we discover little critters. It's the same formula the practitioners use at the Lice Clinics of America treatment clinics, but this kit is a fraction of the price of getting it done by a professional. It contains silicone, which does not easily biodegrade, but it is not a pesticide and the company says it's non-toxic.
Quick lice treatment tip: re-treat nine days after the first treatment, then again nine days later again to ensure you kill any potentially unhatched nits. Wash hats, boil brushes and change bed linens and you're good to go. Lice don't live long away from human hosts, so you don't need to crazy clean your house. Did I just save you hours of work and stress? That's right. You're welcome!
Toddler-friendly nail polish
Every toddler is obsessed with nail polish, which is adorable, but the stuff from the drug store may contain toxic ingredients like toluene, triphenyl phosphate, dibutyl phthalate.
If the stuff that goes on your kid's skin and nails is causing concern, Piggy Paint's slogan is Natural as Mud. Can you get any cuter?
Swap toxic drug store nail polish for Piggy Paint. It's a great alternative for toddlers who want bright colors and don't care if it chips off in a few days. It's not meant for bigger kids and adults, but it's ideal for the littles.
Clean skincare for kiddos
Most skincare products for kids still contain questionable fillers and preservatives despite a lot of press about potential health products. Swap the drug store bubble bath for skincare products by Alaffia. Most products are Made Safe certified which means they do not contain potentially harmful ingredients for human health and ecosystems. A portion of profits goes to various causes in Africa such as maternal health, education, gender equality, and sustainability.
Tweens and teens
For tweens and teens, BeautyCounter has haircare and skincare lines that are clean and effective.
I've been using Honest Company shampoo and conditioner for my daughter for years, but as she's gotten older she's more and more interested in using the same products as me. If your little princess is as style conscious as my darling 6-year-old, BeautyCounter has you covered there as well.
Their adult line of shampoos and conditioners is not only non-toxic, but it also leaves hair softer and smoother than even the most highly-rated salon products I've spent twice as much for!
Teens with acne and oily skin need products made for their skin, but the products we grew up with also contained some nasty chemicals that weren't even effective. BeautyCounter has a clean skincare system designed just for teens and tweens with problem skin.
---
Mattresses
Traditional mattresses are made with foams that do not biodegrade and may leak potentially harmful VOC's. That's why it's still important to look for mattresses that are Greenguard certified. Naturepedic and Avocado Mattress are industry leaders in safe and organic mattresses.
Crib mattress
Naturepedic is a great choice if you're looking for an organic crib mattress that's Greenguard certified and easily wipes clean! Both my babies slept on a Naturepedic mattress. Since then it's been passed along to three additional babies, and it's about to be used again in October. Considering it's lasted almost a decade, it's definitely stood the test of time!
---
A green mattress for grown-ups
Avocado Mattress is a Greenguard certified mattress, which is great. But beyond just being a safer mattress for your family, the whole brand has some serious sustainability cred. Have a read and see what a truly eco-conscious brand looks like.
---
Better Meat
We've all heard meat has a big impact on the planet, especially beef. Cow farts release methane, which is a greenhouse gas. But lean meat and poultry are still considered part of a nutritious diet, so giving it up completely is tough to swallow. Beyond Burger and Impossible Burger are great vegan swaps, but some occasions still call for steak.
Regenerative farming and grassland ranching may offer a ray of hope for those of us who love nature and also the occasional steak. So if dinner isn't dinner without a chicken breast or meatballs, then pasture-raised meat and poultry from small farms are a good swap.
Locally raised, grass-fed beef and pasture-raised chicken is the best option. But if you don't have access to a local farm or trusted butcher, ButcherBox is an easy delivery service that only sells humanely raised and antibiotic-free beef, pork, and poultry that tastes great! It all arrives frozen and cut into family dinner-sized portions.
---
Home energy swaps
Finally, the best and easiest home energy swaps, and a quick tip if you're thinking about buying a new car.
---
Smart Thermostat
Smart thermostats save energy and money by learning your schedule. There's no need to run the AC or heat all day when you're not home. But it sure is nice to come home to a house that's a comfortable temperature. A smart thermostat like Nest will program itself (or can be manually programmed) to turn on a few minutes before you get home so it's the perfect temperature when you walk in the door.
---
LED Lights
"If every American home replaced their five most frequently used light fixtures or the bulbs in them with LED bulbs that have earned the Energy Star, we would prevent greenhouse gases equivalent to the emissions from nearly 6 million cars," according to EnergyStar.gov.
Need I say more? If you used the LED lights of yesteryear and found them to be slow and flickery, the smart lights by LIFX will forever change your mind about what a lightbulb can do.
---
Home solar
Slowing climate change is not as simple as everyone transitioning to solar energy. A clean energy future will require different sources of energy, and solar power is just one. But a home solar system is one that individuals can choose. Other sources of clean energy will be necessary to end climate change, but we can't put most of them on our roof. Bill Gates said this best:
"While I wish there could be a single, magic bullet solution to this problem, there isn't one right now. What will be required in the years ahead is a diverse and flexible mix of energy solutions—a Swiss army knife of energy tools—to support a future of renewable energy generation to meet our needs. Some of these solutions already exist. Others will require more innovation."

– Bill Gates, "A critical step to reduce climate change," Gates Notes
Swap your electric bill for a home solar system by getting multiple quotes from EnergySage.com or see if there's a community solar project near you.
Cars
Swap your car for a more fuel-efficient one by researching cars on GreenerCars.org
Why GreenerCars.org? GreenCars.org rates how green a car is broken down by car class. If you're in the market for a minivan, click on best by class and sort by minivans for example. Most of us have a certain kind of car in mind when we're shopping. GreenCars.org makes it easy to find the greenest one.
---
Ok, that's a lot! But there's still more to come. Companies are creating revolutionary new products every day that are greener, cleaner and made for a circular economy. Which is what the world needs. Better products and services that are healthier for us, our planet and our economy.
---