Let me start out by saying I'm skeptical about all miracle creams and systems. I've also tried all the things. Botox, check. Retinol. Yep. I'm here to tell you I've found a system that's beauty enhancing without the side effects. It's the natural retinol alternative by Beautycounter called Countertime.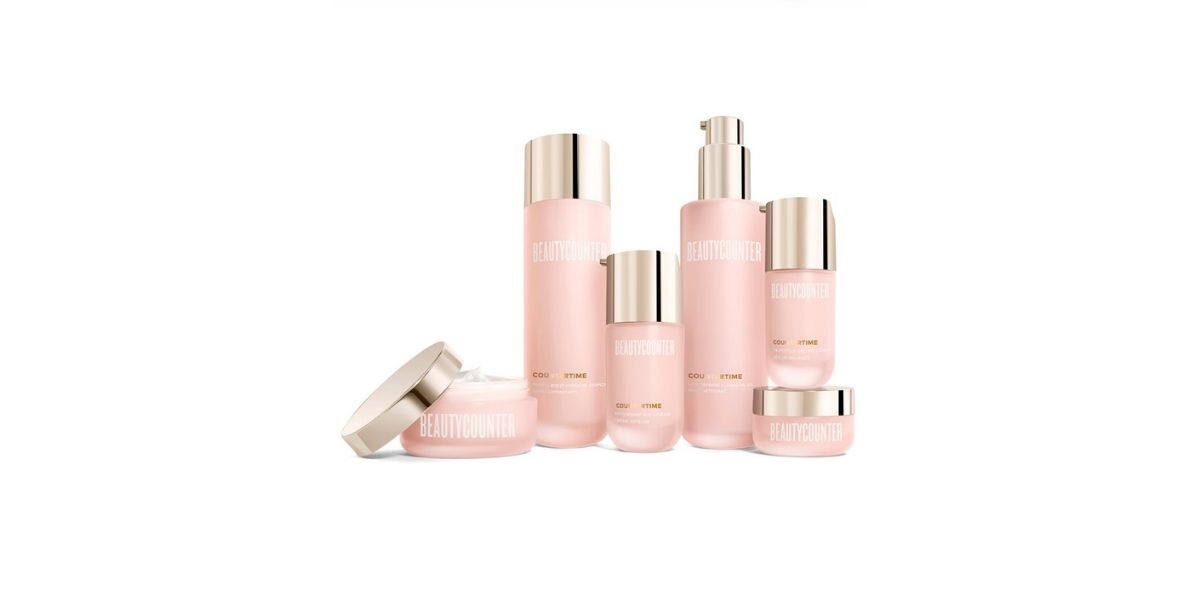 The problem with retinol
Retinoic acid and retinyl palmitate (from the vitamin A family) are commonly used as the active ingredient in anti-aging creams. But there are health issues associated with it. An animal study by the National Toxicology Program showed tumors formed on mice when exposed to both ingredients.
Retinol is a potent form of synthetic vitamin A. Data from an FDA study indicate that retinoid ingredients may speed the development of skin tumors and lesions on sun-exposed skin. FDA, Norwegian and German health agencies have raised a concern that daily skin application of vitamin A creams may contribute to excessive vitamin A intake for pregnant women and other populations."

– EWG Skin Deep
The natural retinol alternative
So when I heard Beautycounter had developed a natural retinol alternative called Retinatural Complex I was thrilled but hesitant about buying an entire system. But natural retinol without the cancer risk? I couldn't resist! Switching to a whole system of beauty products gave me pause, but I decided to go for it just this one time. Well, now I'm addicted!
After the first night using the system, my skin felt softer. Not just a little softer, but significantly softer. Now I've been using the Beautycounter Countertime natural retinol alternative for about eight months, and I truly see a difference. After about a month of using it, friends started commenting on my skin. A friend said, "Your skin is glowing, are you pregnant?" Thankfully it's glowing because of CounterTime, not because I'm preggers. Two high-energy kids is all I can handle!
BeautyCounter says the Retinatural Complex firms, brightens and plumps the skin. I see CounterTime as wrinkle prevention, with the added perk of smoothing fine lines and adding plumpness and glow.
Countertime EWG Rated
The best part is, most Countertime Collection products are EWG Verified and Top Scoring. Beauty should make you beautiful on the inside and outside, don't you think?
Now that I've been using it a while the system feels like an old habit. It just took a few days to get used to it. Here's the lowdown on each product:
The Countertime Cleanser
Step 1: Cleanse using the Lipid Defense Cleansing Oil – The first time I used it I didn't understand it. It feels like oil going on, but it washes off like a cleansing milk. I like cleansing oils because I don't want to strip my face of more oils than necessary, but I worried it wasn't taking off all my sunscreen and makeup. I was wrong. It does indeed leave my skin clean, and it also leaves it with a layer of softness that I don't feel after using most cleansers.
Now that I've been using the Beautycounter Countertime cleansing oil for almost a year, I have to say I simply don't want to use anything else. The oil helps keep moisture in, which seems to be key for me as I'm getting older and my skin needs to retain as much moisture as possible.
The Countertime Anti-Aging Treatments
Step 2: Prep skin with Mineral Boost Hydrating Essence – BeautyCounter says it's like a toner, but more beneficial. This step adds nutrients and a moisture barrier that's designed to renew and balance the skin.
Now that I've been using it for several months, I realized that I saw a noticeable difference in my skin when I skipped this step for a few days. In the beginning, I occasionally skipped this step because I thought it was unnecessary, but no more! It helps lock in the glow somehow. Not sure exactly why it works, but it works.
Step 3: Treat skin with Tripeptide Radiance Serum – This one cannot be skipped. This seems to be the glow-maker. It's the line-smoother and face plumper. If you're not ready to commit to the whole system, buy just the CounterTime Radiance Serum. Use it for a week and see how your skin feels. I bet you'll be back for more.
Note: This is an EWG Verified Top Scoring Product, which means it's been verified as safe by the Environmental Working Group. That matters a lot to me because I know how important it is that the beauty products I put on my skin are not only making me prettier on the outside, but also keeping me healthy on the outside.
The Countertime Wrinkle Prevention
Step 4 am: Protect skin with Antioxidant Soft Cream – This is the holy grail of skin softening. I'll be honest though. If I'm in a huge rush in the morning, I skip this one and go straight to the Dew Skin Tinted Moisturizer. (More about Dew Skin below). This is an EWG Verified Top Scoring Product.
Step 5 pm: Protect skin with Tetrapeptide Supreme Cream – I never skip the evening cleansing and moisturizing routine. That's one good habit I've had since I was twelve. I cleanse my face thoroughly, then always apply a night cream. This one is super creamy and it feels great on my skin. I don't skimp on this stuff. Face. Neck. Chest. Full coverage. This is an EWG Verified Top Scoring Product.
Update on the Tetrapeptide Supreme Cream – I've been using this cream morning and night for over a year and my skin has never felt or looked better. I just wanted to mention that because I so rarely find a skincare product (especially an anti-aging cream) that I buy again and again and again. It's honestly my favorite beauty product. I'm keeping the Antioxidant Soft Cream on this list because it's an excellent cream if you want something lighter. The only problem with the Tetrapeptide Supreme Cream is that it's thick (which I love) but if you want something lighter, the soft cream might be a better choice for you in the morning.
The Countertime Eye Cream
Step 6 – Ultra Renewal Eye Cream – I said I never skip the evening routine, and I don't. But eye cream has never been part of my regimen and I'll admit it's hard to start. I've skipped this one a few evenings, but I might regret that in a decade. For now, I use it when I'm not falling down exhausted. Progress not perfection, right? This is an EWG Verified Top Scoring Product.
On another note, all products come in glass containers. It's great if you're trying to eliminate plastic from your routine. Not so great if you drop it on the bathroom floor. Careful with slippery hands and butterfingers.
Beautycounter's Countertime Collection alternatives
If all those steps are too much, I get it.
The Regimen Collection has the same products as the BeautyCounter CounterTime Collection, but it does not include eye cream. If eye cream is not part of your routine, start with the CounterTime Regimen Collection.
Dew Skin Tinted Moisturizer – Remember how I said I sometimes skip the Antioxidant Soft Day Cream? That's because the Dew Foundation with 20 SPF is a moisturizer, foundation, and low SPF sunscreen all in one. What I love is that I can re-apply in the afternoon to ensure I get the sun protection I need without looking like I just put on sunscreen. It glides on smooth and streak-free.
Note on the Dew Skin – I love that they offer many shades, and the lightest one is fair. I'm a pretty light color, but my color is not fair, it's light which is one shade darker than fair. My daughter is the lightest shade of white a girl can possibly be, and the fair color is perfect for her. Just wanted to note that in case you're wondering which color to buy since there are several options. Also, Beautycounter has a 60-day money-back guarantee, so if you end up with the wrong shade just send it back and get a new shade.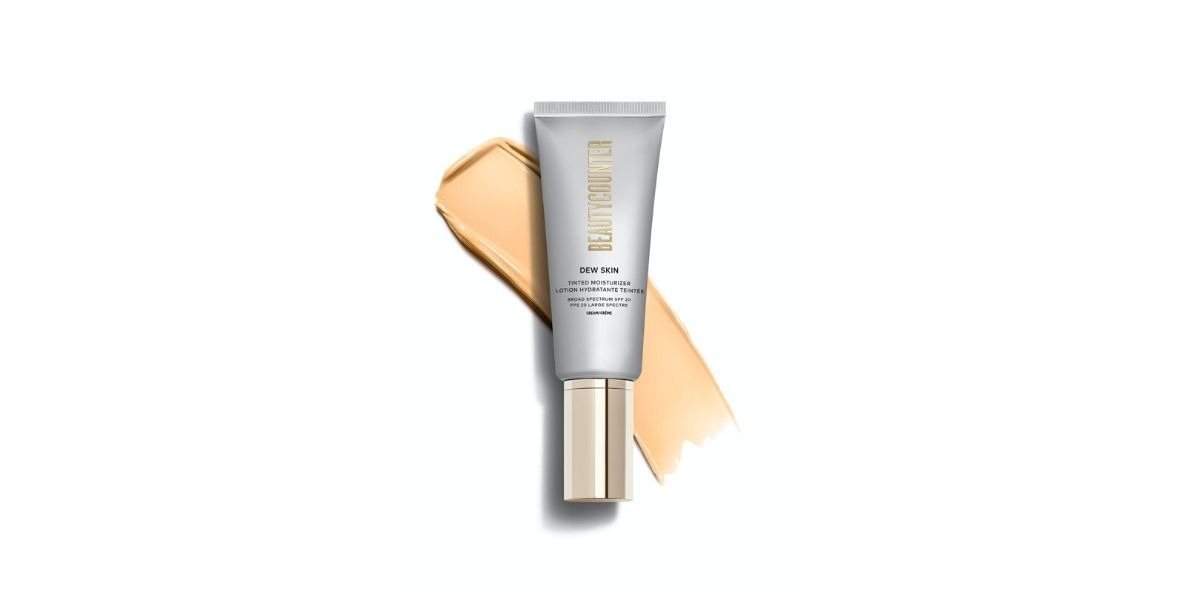 The Retinatural Complex
So how did this come to be? Bakuchiol and Swiss Alpine rose. BeautyCounter took both plant-derived ingredients and created a natural alternative to retinol.
Bakuchiol acts like retinol but without the skin sensitivity and health issues associated with retinol according to Beautycounter. Swiss Alpine rose boosts the skin's antioxidant defense. The combination gives you beautiful glowing skin without a trip to the dermatologist's office.
Beauty products should be good for us
As I said, beauty comes from the inside. If you're eating foods that don't agree with you, it will show up on your skin and your body. However, if you're already eating healthy and exercising, then Countertime by Beautycounter is the ultimate natural retinol alternative.