I've been buying clean beauty products for over a decade, but I always felt like I was trading dirty ingredients for sub-par beauty products. Now, finally, there is Beautycounter. It's a one-stop-shop for all things clean beauty, and it's fabulous. I'll explain more about Beautycounter soon, but first, let me explain why clean beauty products are so important.  
Why buy clean beauty products?
The law does not require cosmetic products and ingredients, other than color additives, to have FDA approval before they go on the market."

- FDA.gov
Cosmetics have limited government oversight, so it's essential to buy clean beauty products and skincare. Here are some of the biggest issues related to beauty products:
Fragrances - The FDA does not require that individual ingredients in "fragrances" are listed on the label because they are considered trade secrets. That means it's not possible for you to know what's in the fragrance unless the company voluntarily lists it.
Phthalates – Phthalates are used to make fragrances last longer. They are considered endocrine disruptors. Although many phthalates have been removed from personal care products due to health concerns, it's not always possible to know if phthalates are in a product.
Endocrine disruptors - Phthalates are endocrine disruptors that can mimic hormones in the body like estrogens, androgens, and thyroid hormones and interfere with the natural hormones. Children and pregnant women are the most vulnerable.
Regulations do not require the listing of the individual fragrance ingredients; therefore, the consumer will not be able to determine from the ingredient declaration if phthalates are present in a fragrance."

- FDA.gov
Chemicals in sunscreens - Oxybenzone (Benzophenone-3) is a commonly used sunscreen ingredient the EWG recommends that consumers avoid. The EWG rates it 8 (high hazard)
Parabens are commonly used preservatives used in personal care products. The use of parabens in beauty products is regulated in the European Union, but not in the United States. Commonly used parabens are propylparaben, and butylparaben and both have an EWG score of 7 (high hazard).
Retinol - Also known as retinyl palmitate/vitamin A palmitate, retinyl acetate/vitamin A acetate are common anti-wrinkle and anti-acne ingredients. These ingredients make your skin more sensitive to the sun and can increase your risk of burning (that's never attractive.) Retinol has an EWG score of 9, which means high hazard.
Coal tar - Coal tar is an ingredient in some psoriasis and eczema creams that can make your skin and scalp more sensitive to the sun. The EWG gives coal tar a score of 10, which means high hazard.
Why Beautycounter is different
Beautycounter is different because the entire brand is clean. That means Beautycounter does not use any of these ingredients in their beauty products. Plus, Beautycounter has a list of 1,800 ingredients they won't use in their products. Those ingredients can be found in all kinds of other products, which makes me wary of ever buying anything at the mall or drug store again.
The thing is, I don't just love Beautycounter because their products are clean. I love and adore Beautycounter because the products make me just as pretty and healthy on the outside as on the inside! I have yet to find a Beautycounter product that I didn't love, (but I have heard their mascara isn't perfect.)
The best BeautyCounter skincare products
I've used a lot of Beautycounter skincare products at this point, and I have yet to find one I didn't like. However, these are my favorites so far. 
BeautyCounter Cleansers
So far I've used three Beautycounter cleansers. The Countertime Lipid defense cleansing oil (which is my favorite), their original cleansing balm, and the Counter+ Lotus Glow Cleansing Balm. I like the following cleansers for different reasons. 
CounterTime Lipid Defense Cleansing Oil* - I love this cleansing oil. Honestly, it's the best. I don't believe in spending too much money on cleansers since they only stay on my skin for a few minutes. However, this cleansing oil leaves my skin super soft and truly helps retain the moisture. Also, one bottle seems to last forever! I only use one to two pumps of cleansing oil each evening and often skip cleansing in the morning so I don't dry out my skin, and one bottle has lasted over six months. So although it costs a bit more than I'd usually spend on a cleanser, it's by far worth the extra few dollars for this one. At this point, it's a clean beauty staple on my bathroom sink.
Counter+ Lotus Glow Cleansing Balm* - As mentioned, I've been using the Countertime Lipid Defense Cleansing Oil for months, but I decided to try their cleaning balm the last time I placed an order. Although I like it, I still prefer the Countertime cleansing oil. The cleansing oil feels lighter going on and coming off my skin. However, the Cleansing Balm is more hydrating so it may be better for me in the winter when my skin tends to feel dryer. I'm writing this in June, so I might save this one for November. I did use it as a hydrating mask, which I love. I left it on for about 30 minutes, and my skin was indeed very glowy when I washed it off. 
BeautCounter Cosmetics
Beautycounter's Sheer Lipstick* - I prefer a natural make-up look, so I stick to sheer lipsticks unless I'm going out. The thing is most sheer lipsticks either rub off after a few minutes or leave a gross film on my lips. The Beautycounter Sheer lipstick line, on the other hand, goes on super soft and smooth. It feels like chapstick rather than lipstick. It stays on, but it doesn't leave a film. It's clean beauty at its best. So clean in fact that I let my seven-year-old daughter use it when she plays dress-up. 
My favorite sheer BeautyCounter lipstick is Petal. The description on BeautyCounter says light pink, but it looks more like a light coral on my lips. Although it does go on sheer and pretty, it's not exactly what I would call light pink.
Beautycounter Sunscreens
Beautycounter sunscreens are absolutely top of the line. Yes, they are a bit more expensive than the stuff you buy at the grocery store, but Beautycounter's sunscreens contain zinc oxide (the safest sunscreen ingredient) without making me look bright white.
Countersun Mineral Sunscreen Lotion SPF 30* - This is the first, and only, mineral sunscreen I've found that goes on almost clear! It also smells great and feels fabulous on my skin. It's water-resistant for 40 minutes, and even my children love it. After years of slathering their entire bodies with white chalky mineral sunscreens, they have become almost as obsessed with using the best sunscreens as I am. Not because they care about sun coverage (they still don't) but they are a bit vain already, and neither of them wants to glow white at the pool with all their friends! Beautycounter's Countersun mineral sunscreen is by far the best mineral sunscreen I've found.
Dew Skin Tinted Moisturizer with SPF 20* - This is my every-single-day go-to sunscreen and foundation. I know it's not exactly a foundation, but it's the perfect tint for me and it contains zinc oxide. I love the tint and that I don't need to use a separate moisturizer. With 20 SPF mineral sunscreen and a touch of tinted coverage, it's my perfect morning moisturizer.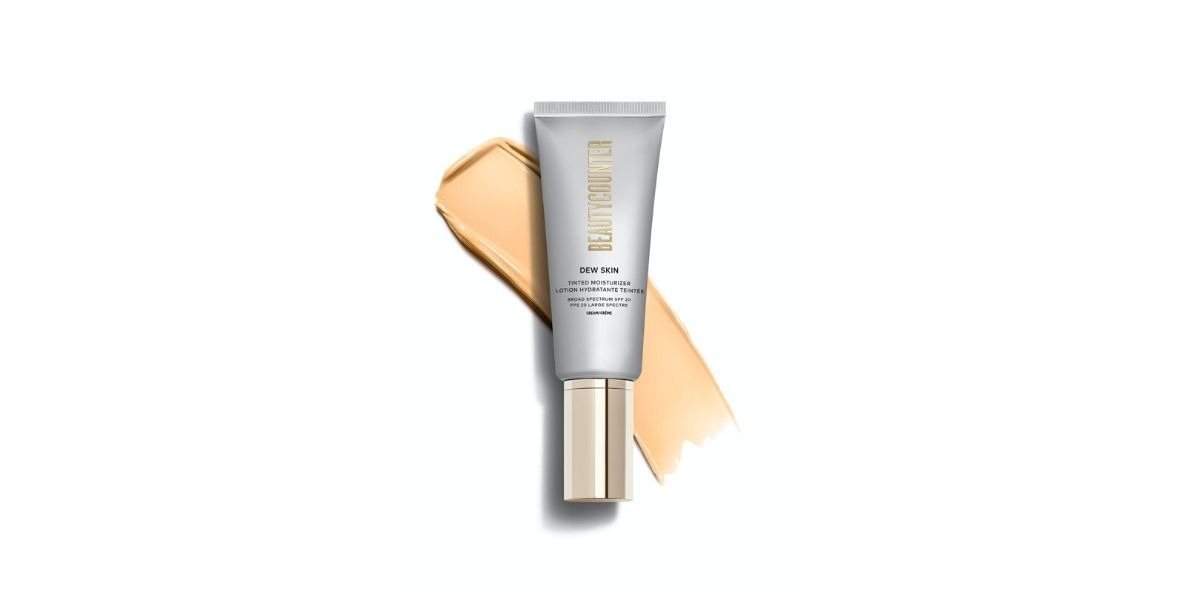 Beautycounter Charcoal Mask
The Beautycounter charcoal mask* is by far the most effective facial mask I've used in years (possibly ever!) It sucks out all the impurities and gives me an even glow that lasts for at least a few days. It evens out my skin tone and makes my pores look significantly smaller. It's my go-to product when I'm feeling blah because I know that as soon as I wash it off, I just look and feel better.