Most links are for reference only. However, EarthyB occasionally includes affiliate links and may earn money if you buy a product from these links.
Most shoes end up in the landfill. Why? Because they're not made to be recycled or remade into something new, and nobody wants to buy your worn out stinky old sneakers. That's why we need sustainable shoe brands that use recycled materials designed for a circular fashion economy. Otherwise, they eventually end up in a landfill. Why?
Because of their construction—usually, their many components are stitched and glued and molded together in complicated ways—they're almost impossible to recycle."

– "Your shoes are made of plastic. Here's why," by National Geographic
Companies that recycle their shoes
You may have heard the term circular fashion and wondered how it actually works. For a product to be truly "circular" it needs to stay inside the economy. (That's why it's called a circular economy.)
What is circular fashion?
Circular fashion means the company chooses regenerative or recycled materials in the original design. The glues and fabrics chosen should make the item durable but also easy to take apart eventually. That's because when you are done with your clothes or shoes, the company should them back to be recycled or remade into something new.
The initial circular design step is just as important as the final closing-the-loop step because the item has to be designed to be taken apart or recycled. If the initial circular design step is missed, then it's almost impossible to recycle, refurbish or remake the item when it's returned. So if we want truly circular fashion items, they have to be designed to stay out of the landfill in the first place.
Now that we've established what circular fashion is, let's move on to the good stuff. Shoes! Below are a few "circular" fashion brands and also a few sustainable shoe brands that use better materials, but aren't closing the loop just yet. Progress, not perfection, right?
Learn more about circular economy principles.
Circular design shoes
A few shoe brands are going further than just using recycled materials in their shoes. They will also take your old shoes back to be recycled.
Nike Shoes
Did you know Nike stores will take your old shoes back to be recycled into their Grind material? It can then be used to make new products and sports surfaces. They also have a shoe subscription offer where you receive a regular subscription of new shoes, and you can send back your old shoes. Looks like Nike is making progress!
Nothing New Shoes
Nothing New Shoes launched in 2019 and markets their shoes as nothing new, because, well, there's nothing new. Their shoes are made from recycled plastic bottles, post-industrial fishing nets, recycled cotton, rubber, and cork according to the company. Then, when you're done with your shoes, you send them back. That's the circular fashion part. You send them back.
Send your Nothing New shoes back to us. We'll pay for shipping, give you $20 off your next purchase, and make sure nothing goes to waste.

– Nothing New Shoes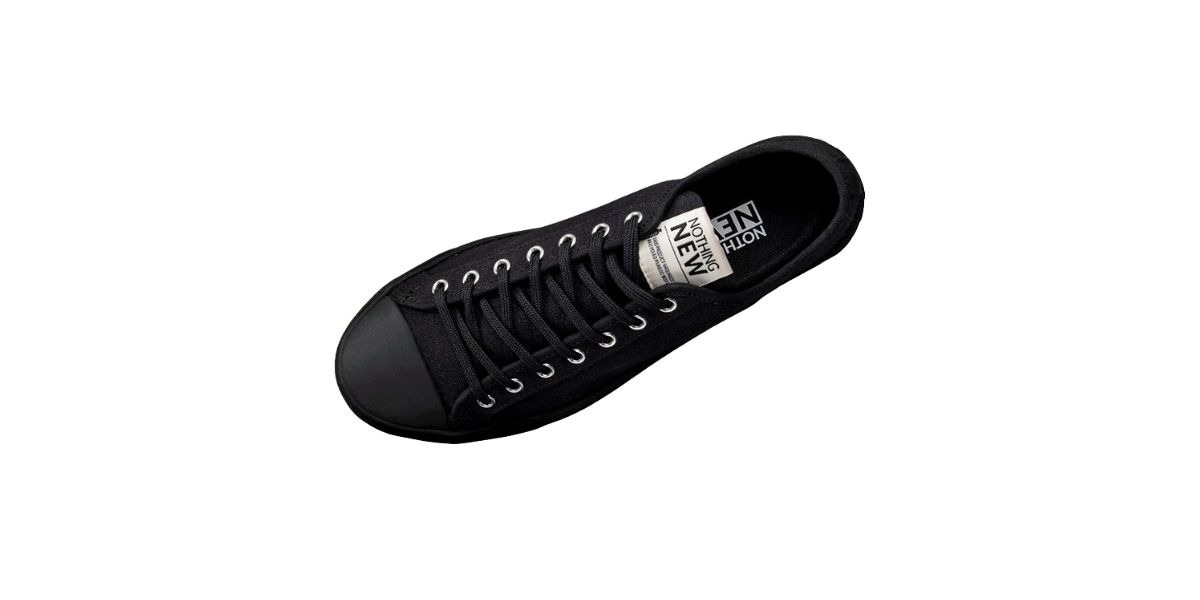 Thousand Fell
With materials like recycled plastic bottles, coconut husk made from food waste and "castor bean oil-based foam" according to the website, ThousandFell seems to be taking the initial design step seriously. Then, just like Nothing New Shoes, they close the loop by taking the product back to be recycled. That's circular fashion in a nutshell.
Let's close the loop together. When the time comes, simply send your Thousand Fell sneakers back (on us), and we'll make sure that, unlike 97% of footwear, they don't end up in a landfill."

-ThousandFell.com
Native shoes
You've probably seen Natives* before, but did you know they can be turned into materials used to make seating or insulation? Bring your old Natives back to the store to be upcycled and get an in-store coupon. The company's goal is that each pair of Natives will be 100% life cycle managed by 2023, according to the website.
Did I mention they're super light like flip flops, but they stay on rather than flopping off? My daughter loves hers.
Buy on Amazon*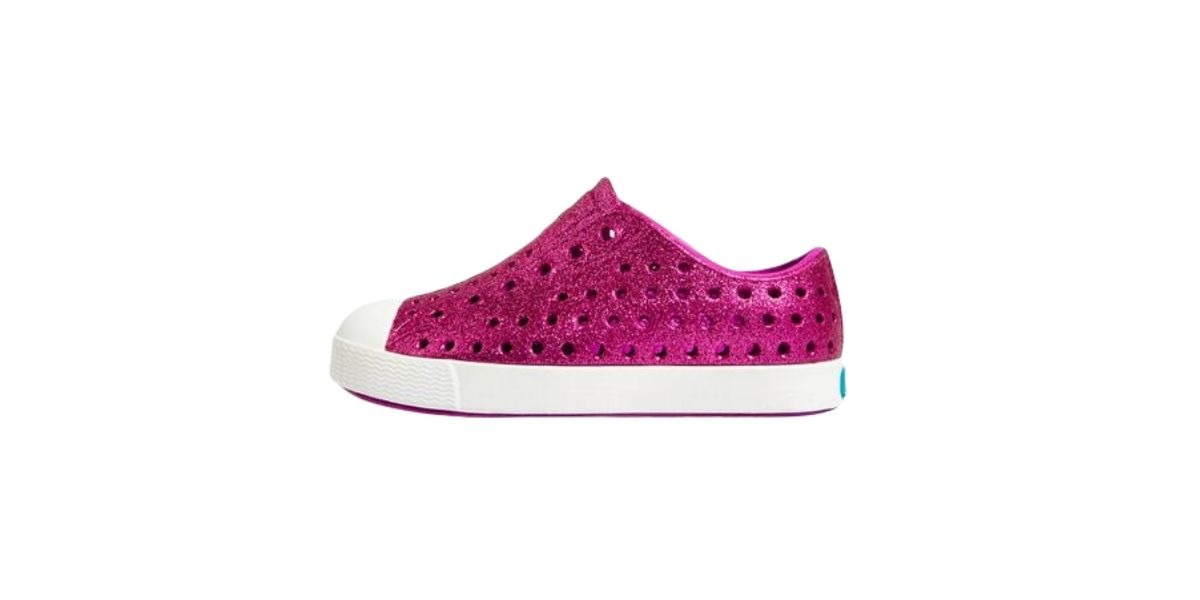 Shoes made from recycled materials
As mentioned, not all sustainable shoe brands are taking their products back for reuse or recycling. However, the most important step in the design process is making a product that's designed to last. These shoe brands have built their reputations on using natural, recycled and sustainable materials as well as on durability. So if you can use your shoes or boots for 10 years, that's one of the most sustainable things you can do.
Timberland Earthkeepers boots
This brand has been around for decades but is constantly pushing the envelope toward sustainability. The Timberland EarthKeeper boot soles are made in part with upcycled tires from their tire company, according to their website.
Buy Timberland Earthkeeper boots on Amazon*
Rothy's
Rothy's claim to fame is that they're produced using threads made from recycled plastic bottles. Which is great. More brands should follow their lead. But the best part is, Rothy's are not only made using recycled plastic but they are also cute and comfy. The most important principle in sustainability is to buy only what you love and that's designed to last. These are designed to be loved for a long time.
Allbirds
If shoes made from recycled materials just aren't your thing, I get it. I prefer natural materials too. Allbirds are made from merino wool, recycled bottles and other sustainable materials.
A little more green-credibility includes the fact that the company is a B Corp. Plus, you can send your lightly used Allbirds to be re-worn through Soles4Souls, which helps provide footwear for people in need around the world.
Like these sustainable shoe brands? Check out these sustainable swimwear brands made from recycled materials like old fishing nets and recycled plastic bottles.
Other circular fashion ideas
Most shoes are not made with sustainability in mind. That doesn't mean we should just throw them away or donate them in the hopes that they'll be given to someone in need. Instead, before you throw them away, consider repairing, selling or recycling them.
Sell your lightly used shoes: Re-sale websites like thredUP and Poshmark are good options if you have slightly worn shoes that could be sold rather than thrown away. One of my personal favorite circular fashion re-sale apps is eBay selling assistant SellHound. They make it easy to create a circular fashion listing so you can sell your shoes on eBay directly.
Repair your shoes: I've started repairing my old shoes myself. This might sound odd, but the truth is it's not that hard to glue on a floppy old sole or add anti-slip pads to a worn-out sole. And you can always use a tire patch or shoe glue in a pinch. Instead of spending $100 on new shoes, shoe repair supplies are usually closer to $10.
Recycle your old shoes: Some shoes just weren't designed to last. If you absolutely can't sell them or repair them, look for a clothing and shoe recycling box. These companies will take your old clothes and shoes back to be remade or recycled.
---