Forget the boring eco-friendly gift ideas of the past. These sustainable products and services are useful, beautiful, and perfect for anyone on your list.
I may receive a commission if you make a purchase through a link marked with an asterisk*.
Eco-friendly gift ideas
These eco-friendly gift ideas come from my own personal favorite products and brands.
Wren carbon offsets* – If the person on your list is truly dedicated to lowering their environmental footprint, there's no better option than giving the gift of carbon offsets. With Wren, you can choose from several CO2 removal projects to fund as a gift. It's also a great last-minute gift idea if it's too late to have a gift shipped.
GreenUPBox* – Give the gift of eco-products delivered right to your loved ones' door. Each box includes full-sized home goods and personal care products.
A roof solar system* – OK, I know that getting an estimate for a roof solar system might not be the most romantic gift. But if your spouse is serious about going green, getting the ball rolling on a home solar roof system before the new year could be the greenest gift you've given yet. SunPower has a good reputation and they make it super easy to get a quick estimate. Maybe get another little green gift to go along with it though 😉
Weber electric grill* – You probably know by now that one of the most impactful ways to live more sustainably is to phase out natural gas and your dependence on fossil fuels at home. Many grills are still powered by propane and natural gas, but excellent electric grills have emerged. Weber offers several electric grills that you just plug in and grill. No more running to the store to refill or swap propane tanks.
Nest Smart Thermostat – Smart Thermostats are a great way to reduce your electric bill, and it makes it easy to schedule the ideal temperature for everyone in your house. If you get a roof solar system quote, a Nest Smart Thermostat could be a nice complimentary gift.
Lettuce Grow Farm Stand* – You've probably seen this before in magazines like Oprah and wondered if it's really as awesome as it seems. I'm here to tell you it's even better. My husband got me this for my birthday, and ever since, I've eaten more greens than I ever have in my life. Even my kids are excited to pick and eat the greens they grow. Plus, we've seriously reduced our dependence on store-bought salads wrapped in plastic bags grown who-knows-where.
Avocado Green Mattress* – Ready for a new mattress? Avocado Green Mattress is the ultimate brand if you're looking for a safe, organic, and super eco-friendly bed or mattress for you and your family. Check out all the certifications on the Avocado Green Mattress site. It's almost overwhelming. They've been rated best mattress by several publications as well. The best part, their mattresses aren't that much more expensive than your traditional mattress that's full of toxic chemicals and designed to live in a landfill for the next hundred years. So seriously, if you're thinking of getting a mattress, go Avocado Green Mattress! It's the best.
Pure Earth Pets* – Need a gift for a dog lover? This is THE box for anyone with an active dog that needs all-natural training treats and sustainably made dog toys. Each box includes 5-6 items shipped to their door. This is a great option for anyone getting a puppy this holiday season.
Soda Stream – Flavored soda water is a popular and healthy alternative to sugary soda, but all those plastic and aluminum cans end up as a lot of waste. Soda Stream lets you make your own sparkling water and when the carbonation cylinder is empty just send it back to be re-used. You reduce waste and keep those carbonation cylinders inside the economy.
Eco-friendly fashion & fitness gift ideas
I want every single thing on this list!
Beautycounter* gift sets – Every year I get my daughter a new set of lip gloss from Beautycounter and it's always a hit. I love Beautycounter because they are truly a leader in green and clean beauty products so I don't have to worry that there are nasty toxic ingredients in anything I buy from them. That matters when I buy products for myself, and it's especially important when I'm buying gifts for my daughter.
tentree* – They plant ten trees for every purchase, and they are truly my heroes. But it's not just about their goal of planting one billion trees by 2030 (which is so cool!) Their clothes are cute too. My favorite purchase from them is a pink hoodie and I love it so much that I'm afraid to wear it in case I get a stain on it. Seriously. It's the perfect hoodie, and they're a super sustainability-minded brand that I feel great supporting.
WAMA Underwear* – If you're looking for a gift for your wife (or maybe just yourself) this hemp bralette by WAMA is fun to give and receive. It's super soft and comfortable with no underwire. Perfect for lounging around at home on long winter nights. The WAMA bralette pictured below is made of a combination of hemp, organic cotton, and spandex.
Outerknown – A clothing brand from World Surf League champion Kelly Slater that has clothes you'll love to live in. If you or the person on your list loves casual, stylish, and eco-conscious clothing, this is a great brand. Lot's of great options for the men in your life that really don't want another tie. Plus, Outerknown's commitment to sustainability is front and center, which is so important to me and the people I shop for.
Patagonia is a sustainable materials leader. If the person on your list loves the great outdoors, anything made by Patagonia will be well received. On Patagonia's website, you can even find used clothes and gear. It's kind of like buying certified pre-owned. Same branded stuff, better prices, and better for the environment.
EarthHero – EarthHero is where I look first when looking for sustainable gift ideas. They have the biggest selection I've found so far. Looking for eco-friendly t-shirts? They've got a bunch. Cute gifts for the kids? Yep. Need some laundry detergent? Throw it in the cart. Seriously, this site is awesome.
MadeTrade* – This is another one-stop shop for sustainable and ethically made clothes and furniture. If you're looking for unique gifts from all over the world, MadeTrade is the best place to shop online. Check out the clothes by Tonle.
Hip Shake Fitness – Telecommute your workout! If your wife, girlfriend or daughter loves to dance, this is the online workout community for her. It's fun and supportive and you get to dance like nobody's watching because nobody is! And in the time it takes you to drive to the gym, you could have had a full workout. You don't need special equipment or machines, just your yoga mat and the ability to laugh at yourself when you have two left feet.
When it is possible to exist and function remotely, the need to travel becomes less necessary; herein lies telepresence's potential impact on climate."

– Drawdown: The Most Comprehensive Plan Ever Proposed to Reverse Global Warming.
Eco-friendly chocolate
Alter Eco Chocolates – I love truffles, but most brands use palm oil in the filling. Sustainable palm oil is a thing, but I have yet to see major brands with a sustainable palm oil certification. This is why Alter Eco is awesome. They use coconut oil instead of palm oil so I don't have to worry about burning down the rainforest when I need a little sweet. Alter-eco is also part of the Regenerative Organic Certification pilot program that has products rolling out this spring. Did I mention it's delicious? Addictive really. Yum. Now I want a truffle.
What is the big deal with coconut oil? As it turns out there is a great deal of goodness that goes along with this coconut byproduct. Not only is it what makes the inside of Alter Eco chocolate truffles so smooth and creamy, but it's also a sustainable alternative to palm kernel oil, containing health promoting properties, and versatility in the kitchen."

– Alter Eco Foods
Eco-friendly gift ideas for kids
Naturepedic – Ready for a big kid mattress? Naturepedic's organic mattresses are clean and green, and they sell twin mattresses with a water-resistant topper. That water-resistant topper is essential even for a year or two after potty training is done. Let's just say accidents happen! If your son or daughter is ready to transition out of the toddler bed, Naturepedic is the way to go, and the holidays are a good time to make the switch.
Native Shoes – Did you know Native uses upcycled materials in many of their shoes? And you can bring Natives back to the store to be recycled. Better yet, they slip on and off super easy which is my favorite part. I can only tie shoelaces so many times per day.
Read more about the latest sustainable shoe brands made with recycled materials.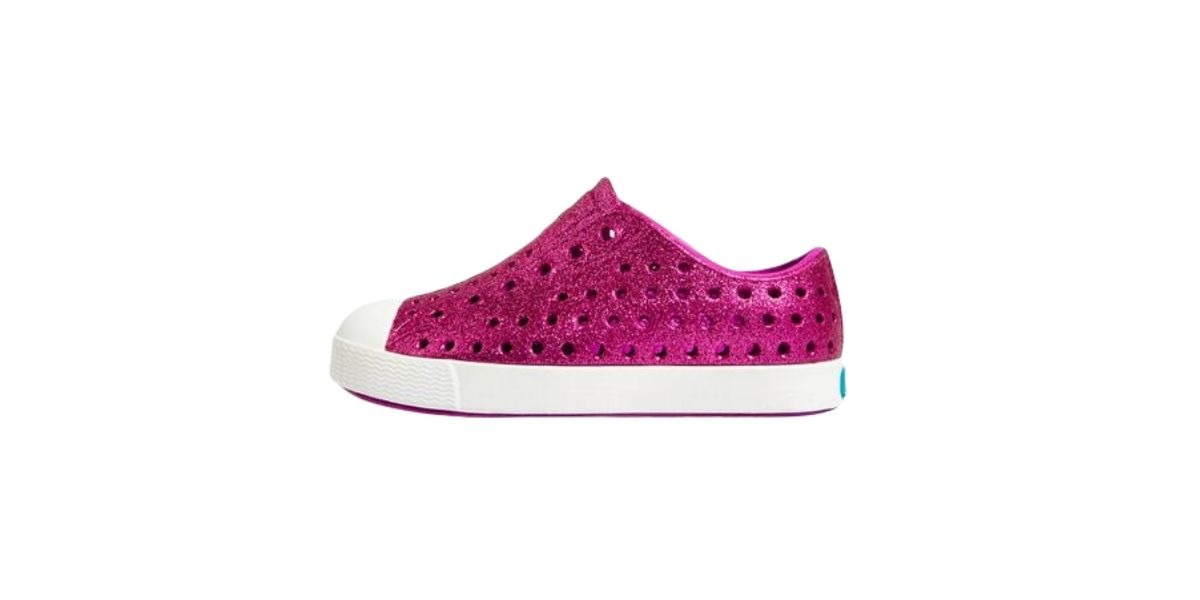 Piggy paint – If your toddler is anything like mine he or she is all about nail polish. But traditional nail polish has so many nasty chemicals that Piggy Paint was the only polish I let my daughter use when she was a toddler. Now she's grown out of the Piggy Paint but it was a staple in our house for years! Now we use 100% Pure nail polish instead. It stays on longer, and there are more color options.
The best books for people interested in the environmental movement
Is the person on your list an avid reader? If so, these are a few of the best environmental books your person will actually want to read.
Speed & Scale*: An Action Plan for Solving Our Climate Crisis Now – This is the book for anyone interested in climate change solutions. I know there are a lot of climate books out right now, but this one is different for one major reason. It's by venture capitalist John Doerr, one of the major backers behind some of today's most innovative companies including Google and Amazon.
Regeneration*: Ending the Climate Crisis in One Generation – This is the follow-up to Drawdown by Paul Hawken. It's full of ideas for people interested in taking positive action for the planet. Regeneration and Drawdown are both great coffee table books, full of beautiful pictures and stories from climate activists.
Drawdown*: The Most Comprehensive Plan Ever Proposed to Reverse Global Warming – Drawdown is the book I reference the most. I originally bought this as the Kindle version, but I ended using it so much that I wanted a hard copy. It was totally worth buying twice. The images are gorgeous, and the print version has a flow to it that simply isn't captured in the Kindle version.
The Arrival of the Electric Car: If someone on your list is planning to buy an electric car for the first time in 2022, this is the ultimate owner's manual. The authors explain everything you need to know about your new car, plus fun historical facts and what the future of electric cars might look like. You might not be able to buy the one you love an electric car, but you can certainly buy them a book about electric cars 😉
No Impact Man*: The Adventures of a Guilty Liberal Who Attempts to Save the Planet, and the Discoveries He Makes About Himself and Our Way of Life in the Process – This book changed the way I look at the environmental movement. It's about a man and his family who go zero environmental impact in one year. It's a fascinating journey into how complicated environmental issues are. Lights are turned off, farmers' markets are explored. He even learns how to make his own laundry detergent to use in the bathtub, which is where he washes his clothes. It's intense. It's also the reason I'm such an advocate for a circular economy and systemic change.
Most people don't have the time it takes to live an environmental impact-free lifestyle. It's just so much work and so complicated. We can make small changes, but at the end of the day, we need systemic change. This book helped me see that.
Book ideas for a global perspective
If the person on your list is interested in seeing progress toward the United Nations Sustainable Development Goals, Factfulness and The Moment of Lift are classics. Both are engaging and well-written while also shedding light on how we can solve major environmental issues while also helping people all over the world. What's not to love about Melinda Gates, right? The Moment of Lift is a deep and powerful read for the enlightened man or woman on your list.
Factfulness*: Ten Reasons We're Wrong About the World–and Why Things Are Better Than You Think – If you're interested in understanding the world outside the United States and Europe, Factfulness is eye-opening. If No Impact Man was the first book to show me that a zero impact environmental lifestyle is almost impossible for the average family, Factfulness is the book that helped me understand how essential it is that the environmental movement also works to lift people out of poverty all around the world.
The Moment of Lift*: How Empowering Women Changes the World – If we want the environment to thrive, we need women to thrive. This book explores women's lives throughout the world, and why it's essential to lift women up. This is also not a "green" book, but raising women up is one of Drawdown's top ways to draw down climate change, so I consider it a related topic.