If you've read How to Avoid a Climate Disaster by Bill Gates, you know he talks a lot about the need for innovation in the coming decades. It's the topic I'm most interested in, and I started EarthyB.com to help readers find green products and services they can already buy now. I believe we're going to see huge growth in green innovation in the coming decade, and I'll be here covering it all. But there's no need to wait. Here are some of the best green innovations we all have access to today.
What is green innovation?
Green innovation is a new or redesigned product or service that leads to less waste or greenhouse gas emissions than the traditional products and services currently on the market. Green innovation not only solves environmental problems but they're also better for the consumers and businesses using them.
Green innovation at home
There's already a lot of green innovation you can use at home. Not only does it help lower your environmental footprint, but it can also help save you money, make you more comfortable, or even make your indoor air quality healthier. One goal of the environmental movement is to electrify everything, so that's what I focus on first and foremost when I write about green innovation for the home. Another green home goal is to lower energy consumption and use renewable energy when possible. These products and services help you do just that.
Solar panels – Solar panels may not sound like green innovation if you've been hanging out in the sustainable living space for a while, but it's really the original green innovation don't you think? The home solar roof market is increasing year over year because the prices just keep coming down. So even though solar roof systems have been around for a long time, it's certainly worth investing in if you haven't already. My awesome partners at EnergySage make getting solar quotes super easy.
Read: The ultimate solar home guide for a single-family residence
Induction oven – If you already have a home solar panel system (or another source of green energy) then it's time to start phasing out the natural gas appliances. Many cooktops, dryers, and heating units today run on natural gas. Yes, natural gas is a fossil fuel we need to reduce our dependence on.
Natural gas is still cheaper than electricity for many homeowners, so this can understandably make it hard to switch to electric appliances. So if it's cost-prohibitive to swap to electric appliances, that's understandable. But keep in mind, today's induction ovens are far superior to yesterday's natural gas ranges. I think of induction cooktops as the Teslas of modern kitchens. Natural gas cooktops are more like El Camino's. (Don't get me wrong, I have fond memories of an old El Camino. But that doesn't mean I want to drive one every day ;))
Read: How to make a healthy home environment
Electric fireplaces are not only significantly cheaper to install than gas fireplaces, but they're also a healthier option if you're concerned about indoor air quality.
Radiant patio heaters are a greener option than propane patio heaters. They're also easier to use than propane patio heaters because they run on electricity. That means you just plug it in and voila! No more refilling propane tanks.
OhmConnect – This is a service that three major utilities in California have partnered with that lets participants know when they should reduce their energy consumption in exchange for cash and prizes. This is a genius green innovation! It bridges the gap between the utility that has to turn on dirty and expensive sources of power during high volume hours and utility customers who want to earn prizes and reduce their emissions.
Read: How to conserve energy and earn money with OhmConnect
Circular economy products & services
I've written a lot about circular economy products over the years, and as time has gone on, they've just gotten better and better. Below are three companies I see embracing the concept of green innovation in a more "circular" way:
Beautycounter – Beautycounter made Fast Company's list of the world's most innovative beauty companies of 2020. Their clean refillable deodorant is my new favorite beauty product. The deodorant is made with clean AND effective ingredients, and it comes in a refillable case. So you pay once for the deodorant with the case, but next time you buy it, you just pay for the refill which is significantly less expensive. It's a win for the consumer and the environment.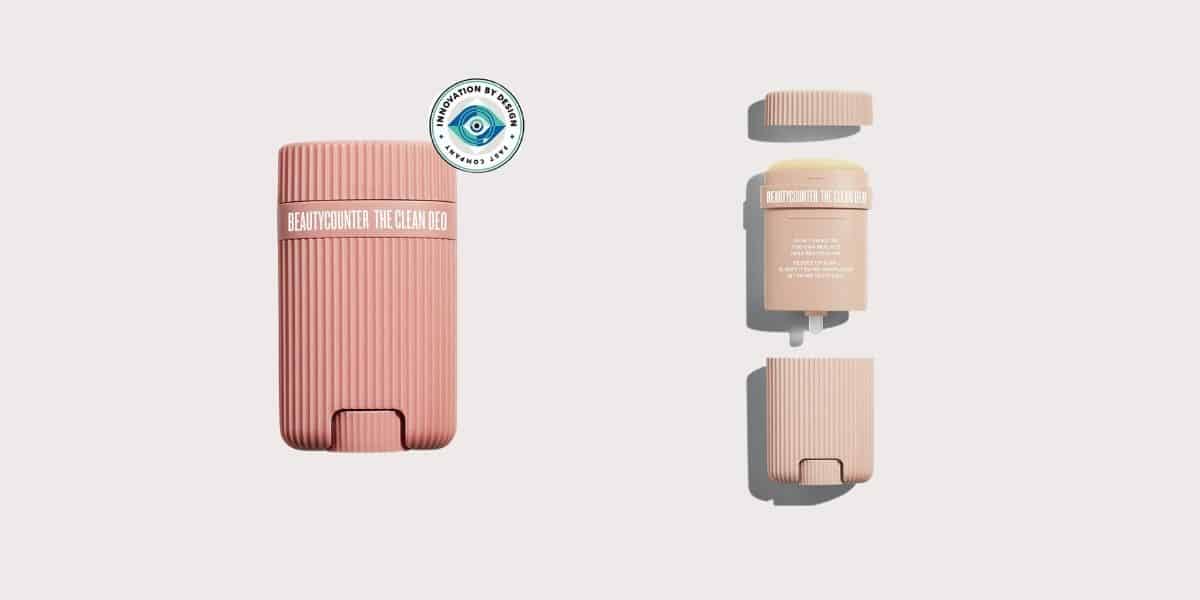 Grove Collaborative – Grove's cleaning products are my other favorite example of a circular and refillable product. You just buy the glass spray bottles, then refill them with the cleaning concentrates. They're clean and green and just as effective as much of the toxic cleaning stuff you buy at the store.
Misfits Market –  Food waste is a major environmental problem according to Drawdown.org. That's why companies like Imperfect Foods and Misfits Market have come up with innovative ways to prevent food from being wasted. Misfits Market lets you buy food that otherwise would have gone to waste at a reduced price.
As you can see, there's a whole lot of green innovation already available today. But we still need more, so I'll leave you with this quote from Bill Gates on innovation.
"In energy, software, and just about every other pursuit, it's a mistake to think of innovation only in the strict, technological sense. Innovation is not just a matter of inventing a new machine or some new process; it's also coming up with new approaches to business models, supply chains, markets, and policies that will help new inventions come to life and reach a global scale. Innovation is both new devices and new ways of doing things," Gates said in How to Avoid a Climate Disaster.